The Journey to Lithium-ion Battery Recycling - Chris Reed, Managing Director & CEO of Neometals
---
This episode we have a wonderful opportunity to chat with Mr Chris Reed who is the Managing Director and CEO of innovative minerals and advanced materials project development company Neometals.
Chris started in the mining industry in 1990 and co-founded Reed Resources with his father David in 2001. In this absorbing conversation we gain an understanding of Chris's life growing up in the capital of the Western Australian goldfields, Kalgoorlie and how his career path and passion led to building a company in the mining sector, developing an understanding of the commodities that are very relevant to the 21st century and ultimately, the formation of Neometals.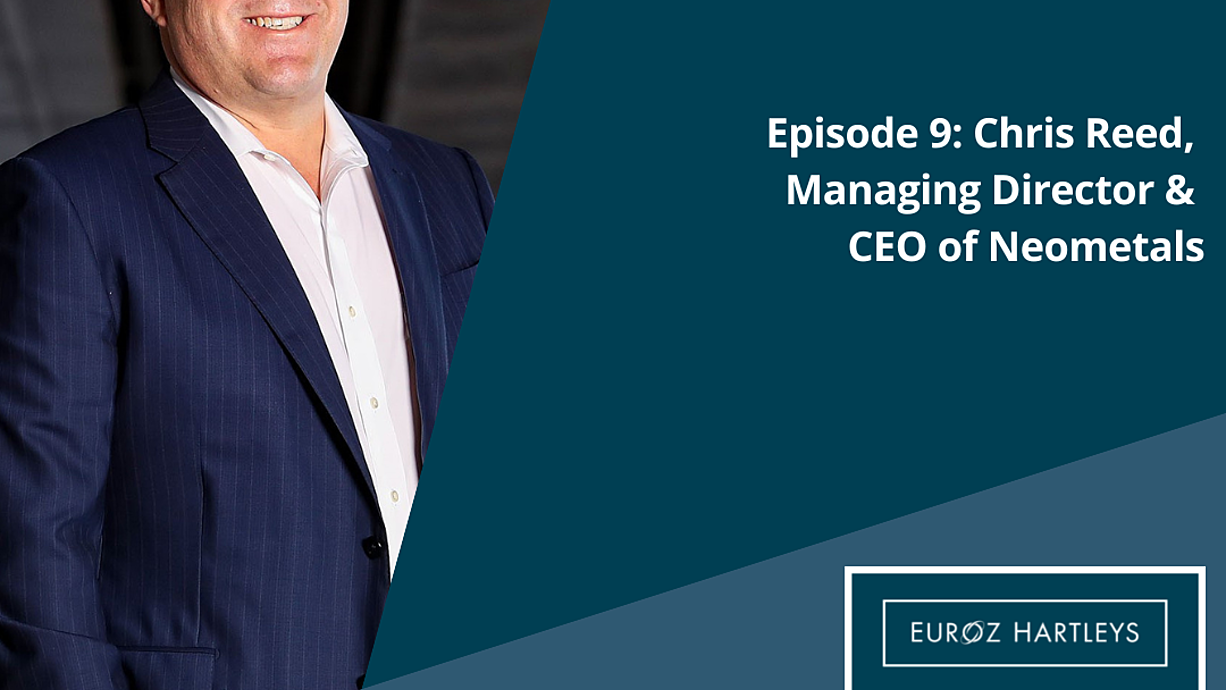 Neometals has transitioned from a mineral resource only exposure to becoming an integrated mineral and materials project developer. It has 3 core projects with large partners that support the global transition to clean energy and span the battery value chain including Lithium ion battery recycling, vanadium recovery and the Barrambie Titanium and Vanadium project which is one the world's highest grade hard rock titanium vanadium deposits.

........
Disclaimer & Disclosure Euroz Hartleys Limited ('Euroz Hartleys') is the holder of an Australian Financial Services Licence (AFSL 230052) issued by the Australian Securities and Investments Commission ("ASIC") and is a participant of the Australian Securities Exchange Group ("ASX Group"), Cboe Australia Pty Ltd (Cboe) and the National Stock Exchange (NSX). Euroz Hartleys and its associates declare that they deal in securities as part of their securities business and consequently may have a relevant interest in the securities participating in the Euroz Hartleys "Finding the Front" Podcast interviews. This may include providing equity capital market services to their issuing company, hold a position in the securities, acting as principal or agent, or make a market therein. Euroz Hartleys declares that it may have acted as an underwriter, arranger, co-arranger or adviser in equity capital raisings, and will have received a fee for its services, for some of the companies that have participated in the Euroz Hartleys "Finding the Front" podcast during the last 12 months. The Euroz Hartleys "Finding the Front" Podcast is general information only. Nothing in the Euroz Hartleys "Finding the Front" Podcast shall be construed as a solicitation to buy or sell a security, or to engage in or refrain from engaging in any transaction. The general advice warning applies in any case that all investors, before making any investment decisions, they should consult their qualified, licensed investment or financial adviser in order to ascertain whether the investment decision (if any) is appropriate, having regard to their investment objectives, financial situation and particular needs. Euroz Hartleys believes that the information contained and discussed within the Euroz Hartleys "Finding the Front" Podcast is correct at the time of compilation, however we make no representation or warranty that it is accurate, complete, reliable or up to date, nor do we accept any obligation to correct or update the opinions in it. The opinions expressed are subject to change without notice. No member of Euroz Hartleys accepts any liability whatsoever for any direct, indirect, consequential or other loss arising from any use of this material. We cannot guarantee that the integrity of this communication has been maintained, is free from errors, virus interception or interference.
---
Never miss an update
Get the latest insights from me in your inbox when they're published.
---