The magazine cover indicator says buy dividend stocks!
---
When cash is this popular, it's time to look at other income options
Investing, as the cliché goes, is part science, part art.
The science is about plugging numbers into your model, and making sure the model is robust and spits out a reasonable estimate of value.
The art is in knowing where the market is moving. This is the truly hard part. And no one gets it right. The best you can hope for is to get it right more than you get it wrong.
One attribute that can really help in this respect is having a contrarian mindset. That is, try and find out what everyone else is thinking/investing in and ask, is it priced in? And if it is, where are the real opportunities? What isn't priced in?
Checking out magazine covers can help you in this respect. I view these as mirrors that reflect the views of the majority. The idea is that mainstream magazine editors want to sell as many copies as they can. Therefore, they advertise their 'best ideas' on the front cover. The best ideas being what the editor thinks is the most popular that week.
Not all magazine covers work as an indicator. But often something sticks out.
And while no doubt there are plenty with the AI theme either in circulation or hitting the printing press, there is another one I want to tell you about today.
It's from Bloomberg's Businessweek at the end of April, talking about 4% cash yields. The sub-head says it all: 'How high-yield savings accounts became THE HOTTEST investments since meme stocks'.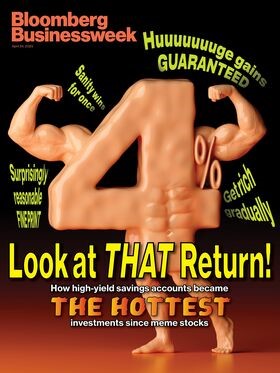 I'm not sure when a 4% return on cash became a hot investment theme, but it tells you a bit about investors' psychological state right now.
That is, they'd prefer the safety of cash to the risk posed by the stock market. I'm not bullish on 'the market' right now. But I think there are good opportunities for the discerning, long term investor. The preference for cash right now tells you many stocks are unloved.
And while the magazine is US based, I'd say it's similar story in Australia.
The official cash rate here is 3.85% — the highest since April 2012.
For the first time in more than a decade, you can now get 4–5% on high-interest savings accounts.
Assuming you're under the government guarantee of $250,000, that's 4–5% completely risk-free.
Shares now have some competition when it comes to income. We've gone from TINA (there is no alternative) to TAPOA (there are plenty of alternatives).
But what a lot of people don't realise is that it's precisely this reason that stocks are now offering some of the best income opportunities in more than a decade.
When cash rates are low, capital flows into the stock market. 'Searching for yield' is the cliché often used. The more determined this search, the higher stock prices go in order to get that yield. And the higher stock prices go, the more the yield declines.
That's why in low-interest rate environments, nearly everything is overvalued. Because investors forget about the price they pay and just focus on the dividend/income side of things. For long-term investors, it's a difficult environment to invest in.
But when risk-free bank accounts start offering 4–5% interest rates, capital no longer flows into stocks 'searching for yield'. Prices don't rise to silly levels and as a result, there are much more attractive long-term investment opportunities on offer.
The last time we had a rate-rising cycle was in 2009–10. The RBA's cash rate went from 3% in September 2009 to 4.75% in November 2010. Rates stayed at that level for the next 11 months.
The market ALWAYS struggles in rising-rate environments. Not always immediately, mind you. The lagged effect of monetary policy means that it takes a while for the effects to flow through into the real economy and stock prices.
Back then, the ASX200 rose by 8.3% from the first-rate hike in October 2009 to the peak of the market in April 2010. Then, as the RBA kept raising rates in 2010 and held them at 4.75% throughout most of 2011, the ASX200 fell around 23% into the October 2011 low.
Sure, there were other factors influencing the market at the time, but the cost of money (interest rates) was a big one.
The 2009–10 rate rising cycle was benign. It didn't cause an economic slowdown and so company profits weren't badly impacted.
But still, stocks fell enough to throw up decent dividend (and capital growth) opportunities. You can see that in the chart below. It shows the dividend yield for stocks in the All Ordinaries (XAO) versus the long-term average.
In September 2011 the average dividend yield reached a high of 4.9% and stayed around that level until May 2012. This is the area I have circled. As mentioned, rising dividend yields were largely a result of the cash rate moving to a high of 4.75%.
Now, we have a cash rate of 3.85% and an average dividend yield of 4.55% as of March. That's above the long-term average and a sign that there are plenty of dividend opportunities on offer.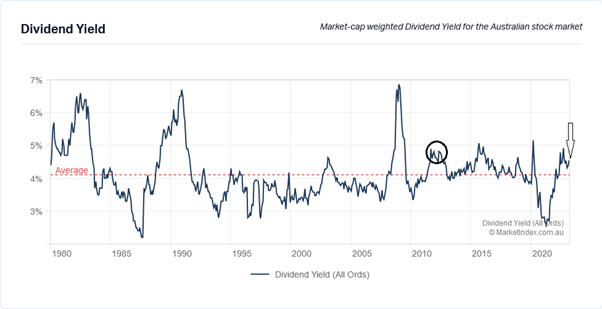 Maybe rates rise one more time, I don't know. But I think we're very close to the end of this rate-rising cycle. If past cycles are any guide, the RBA will now go on hold. For how long, depends on the health of the economy.
But what you want to do is start hunting for dividends now. Building positions now, and patiently waiting for the rate cycle to turn back down again (and it will) will put you in a very strong position to make healthy capital gains down the track. And while you're waiting, you'll be getting a nice income stream.
Below some of the highest-yielding stocks on the ASX200 right now. (Note, yields are FY23 forecasts, and are not grossed up for franking credits.)
As you can see, the yields on offer are attractive indeed…
Fletcher Building [ASX:FBU]                                              8%
Bank of Queensland [ASX:BOQ]                                           7.5%
Rio Tinto [ASX:RIO]                                                                  7.7%
Harvey Norman [ASX:HVN]                                                   7.6%
Abacus Prop Grp [ASX:ABP]                                                  7.1%
Bendigo Bank [ASX:BEN]                                                        7%
BHP [ASX:BHP]                                                                         6.95%
Charter Hall Retail REIT [ASX:CQR]                                     6.9%
Deterra Royalties [ASX:DDR]                                                 6.9%
HomeCo Daily Needs REIT [ASX:HDN]                              6.85%


But here's the important thing to keep in mind: When you're investing for income in the stock market, you're still investing in the stock market. It's not like you can just go and buy a company and automatically expect to receive that income yield.
You might get a 6% dividend but lose 15–20% from a falling share price. Or the company may cut its formerly juicy dividend, meaning what looked attractive when you first bought, suddenly disappears.
It's all about maintaining your core investment principles first, and then seeing what stacks up

As I said, there are plenty of high-yielding opportunities in the market right now, from property trusts to industrials, to banks and resources. And there are opportunities and traps in all sectors.
Before we start looking at them, let's examine the fundamentals of dividend investing…
The completion of this article and latest dividend recommendation is part of Greg's premium service Fat Tail Investment Advisory.

As a valued Livewire reader, we're offering you an opportunity to gain immediate access to Fat Tail Investment Advisory with an incredible discount of up to 70% when you join today.
Never miss an update
Enjoy this wire? Hit the 'like' button to let us know. Stay up to date with my current content by
following me
below and you'll be notified every time I post a wire
Welcome to Livewire, Australia's most trusted source of investment insights and analysis.
---
To continue reading this wire and get unlimited access to Livewire, join for free now and become a more informed and confident investor.
Fat Tail is Australia's largest independent financial publisher. Greg is Editor of its flagship newsletter, The Fat Tail Investment Advisory, where he writes market commentary and looks for out-of-favour ASX 200 stocks on the cusp of a re-rating. For more: https://fattail.com.au/editor/greg-canavan/
........
All advice is general in nature and has not taken into account your personal circumstances. Please seek independent financial advice regarding your own situation, or if in doubt about the suitability of an investment. Any actual or potential gains in these reports may not include taxes, brokerage commissions, or associated fees.
---

Never miss an update
Get the latest insights from me in your inbox when they're published.
---
---
Fat Tail is Australia's largest independent financial publisher. Greg is Editor of its flagship newsletter, The Fat Tail Investment Advisory, where he writes market commentary and looks for out-of-favour ASX 200 stocks on the cusp of a...
Fat Tail is Australia's largest independent financial publisher. Greg is Editor of its flagship newsletter, The Fat Tail Investment Advisory, where he writes market commentary and looks for out-of-favour ASX 200 stocks on the cusp of a...