The Match Out: Market slides ahead of public holiday, US Fed to hike rates tonight, probably by 0.75%
---
The ASX was hit more than 100 points today ahead of the public holiday tomorrow, obviously, overnight weakness in the US played into this, however, the outcome of the FOMC meeting tonight and our inability to react to whatever happens until Friday was enough to see traders take risk off the table into a day of light volumes. A weak open, a meander lower throughout the session before another leg lower on news that Putin had announced a partial mobilization saying that the West had tried to "turn Ukraine's people into cannon fodder."
The ASX 200 finished down -106pts/ -1.55% at 6700
The communications sector was the only one in the green with a slight +0.07% gain
Materials (-2.64%), Utilities (-2.34%) and Real Estate (-2.16%) fared the worst.

James Gerrish on Ausbiz this afternoon talking

Whitehaven Coal (ASX: WHC)

,

Viva Energy (ASX: VEA)

and

Pilbara (ASX: PLS)

–

Click here to view

Soul Patts (ASX: SOL) +4.96% was up on news it would pay a special dividend thanks to its big holding in New Hope (ASX: NHC) – SOL own nearly 40% of NHC – a nice position to have.
Viva Energy (ASX: VEA) +4.56% rallied after announcing they will buy Coles Express for around $300m.
Whitehaven Coal (ASX: WHC) +3.82% said they would seek shareholder approval to buy back up to 25% of their stock.
Pilbara (ASX: PLS) +1.02% hit a new all-time high today trading above $5. It was trading at $1.97 in June when Goldman Sachs put out their big bearish thesis on Lithium, saying oversupply would cause a sharp decline in prices. - the opposite has played out to date.
Brickworks (ASX: BKW) +0.37% edged higher on reasonable FY22 results.
Lots of press today around AGL Energy -2.28% and their strategy going forward – Barrenjoey upgraded to neutral from sell equivalent while AGL have a strategic review due out next week.
Iron Ore was ~3% lower in Asia. E2
Gold was up $5 to ~US$1670 at our close.
Asian stocks were mostly lower, Hong Kong down -1.18%, Japan fell -1.46% while China was flat.
US Futures are flat – they were actually higher for most of our session before news from Russia hit the wires.
ASX 200 Chart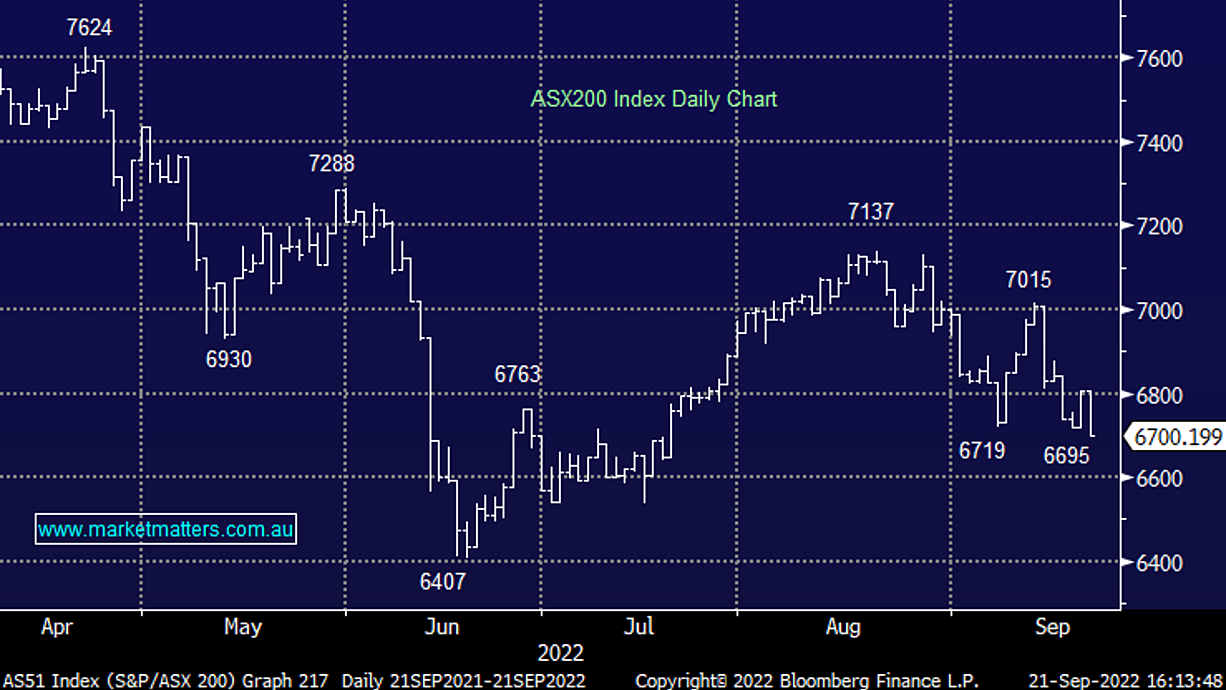 Whitehaven Coal (ASX: WHC) $8.96
WHC +3.82% : Rallied today as they announced their intention to seek approval to increase share buy-backs at the AGM on 26th of October. While this was widely expected, the size being sort is big, up to 25% of issued capital / ~240m shares which comes on the back of a 10% buy-back which is almost complete. Assuming they get approval and buy back the 25% on market (they are seeking approval for both on-market & off-market approaches), they would be a buyer of ~1m shares a day against a stock that trades around 14m shares a day. Fewer shares on issue improve per-share metrics and should ultimately support the stock over the next 12 months. While Coal prices remain the key, buying back shares at a rate of 25% pa is clearly going to help offset any weakness if it comes through in the underlying commodity.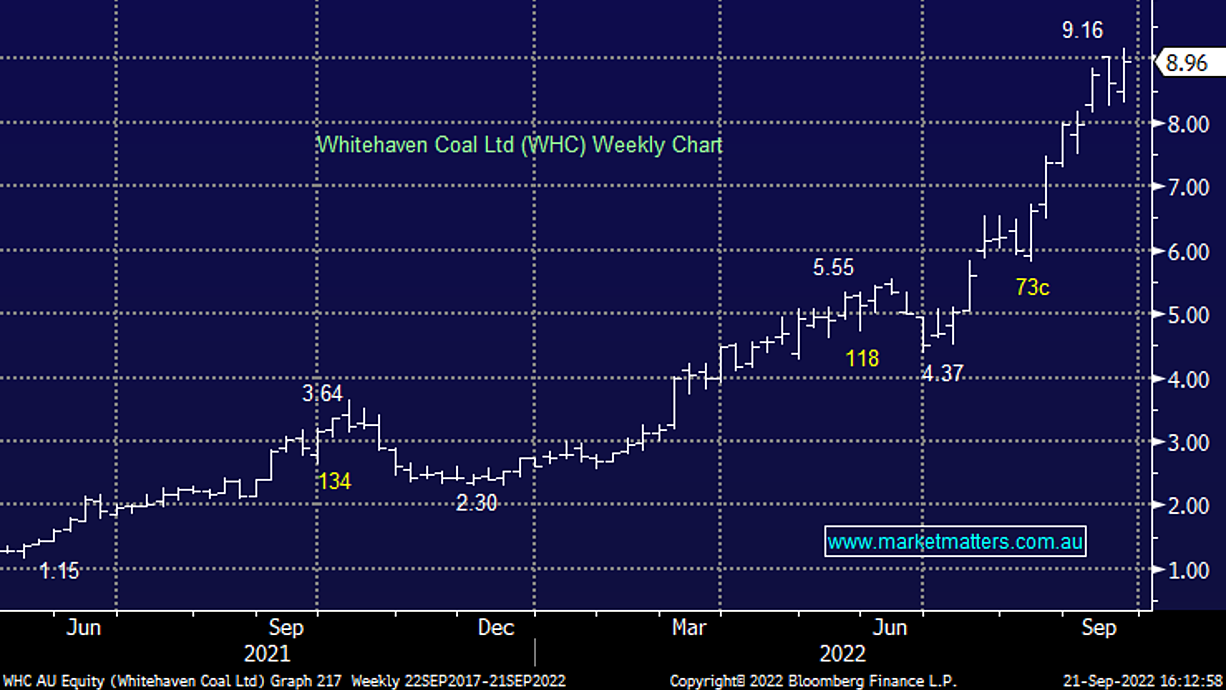 Viva Energy (ASX: VEA) $2.75
VEA +4.56%: The operator of Shell-branded service stations in Australia today announced the acquisition of Coles Express for ~$300m. The deal will be 11-18% earnings accretive (hence the pop higher in share price) while it will create the largest fuel/convenience footprint owned by one company in Australia. This is actually an interesting stock for more defensive / lower risk portfolios, trading on an Est PE of 8x and yielding above 5%.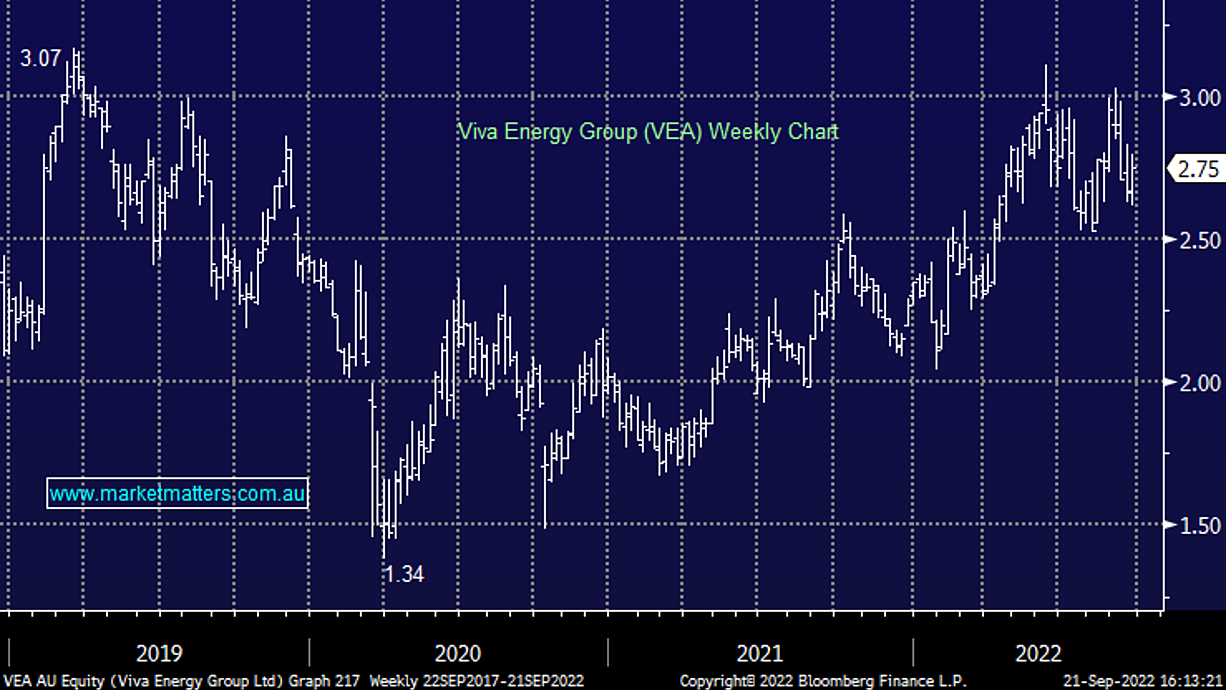 Brickworks (ASX: BKW) $21.77
BKW +0.37%: the building products company saw surging growth in their FY22 result today, however, the company was very cautious on the outlook as interest rates pressure construction globally. EBIT from the building products divisions in Australia and North America saw total growth of more than 200% to $155m, however, property sales were a significant driver of the growth. They have diversified their portfolio significantly, firstly with a joint venture with Goodman Group (GMG) for investment in industrial and manufacturing property as well as acquiring a number of smaller building product manufacturers in the US to spread geographic risk. The balance sheet and investment portfolio remain in great shape however the outlook for FY23 was pretty gloomy. The company noted forward sales should carry revenue through the first half, but a significant slowdown in construction activity is likely to weigh at the back half of the year.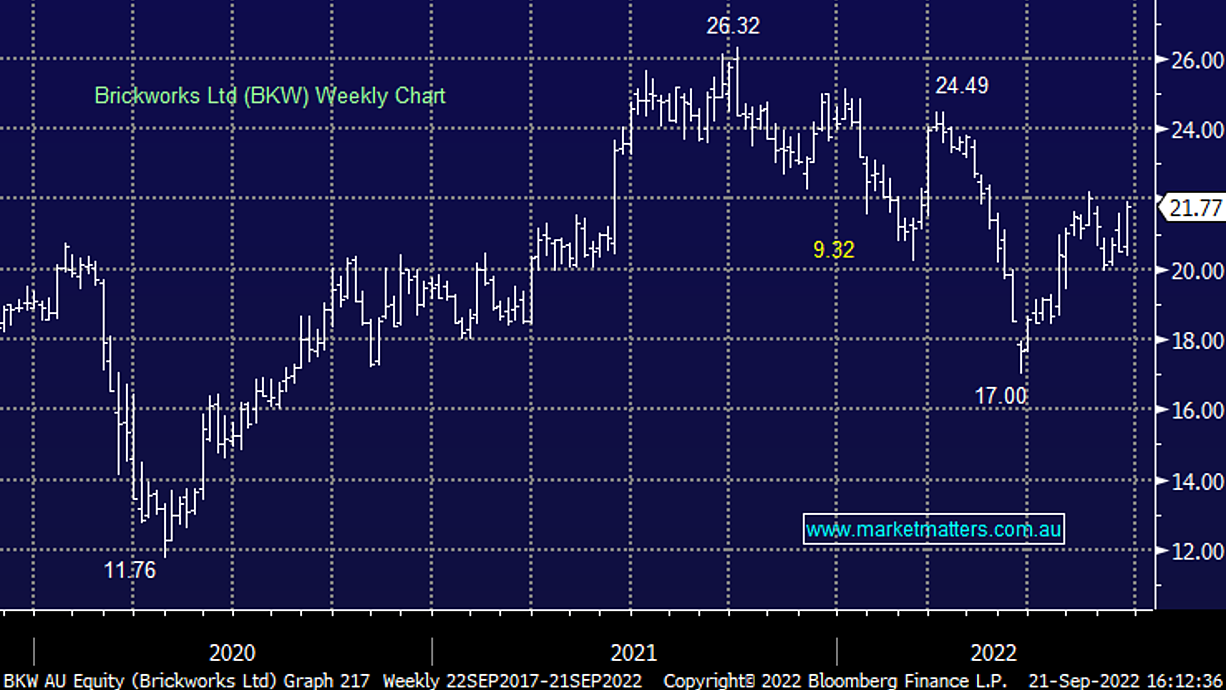 Washington H Soul Patts (ASX: SOL) $27.10
SOL +27.10%: the investment company rallied to a 5-month high today on the back of strong performance in underlying investments. The company now runs nearly $10b across equities, property and private equity with a strong NAV per share increase of 13.8% in a market that fell. The total value of the portfolio increased by 72% largely on the back of their merger with Milton. They finished the year in a net cash position, providing investment flexibility in the volatile market. Their investment in New Hope Coal (NHC), of which they own nearly 40% of the shares on issue, was a major contributor to an increased dividend for the full year. They'll pay a 43c final dividend along with a 15c special. The company said the market remains volatile, however, they are confident in continued outperformance with a focus on sustainable, cash-generating businesses that they expect to remain resilient.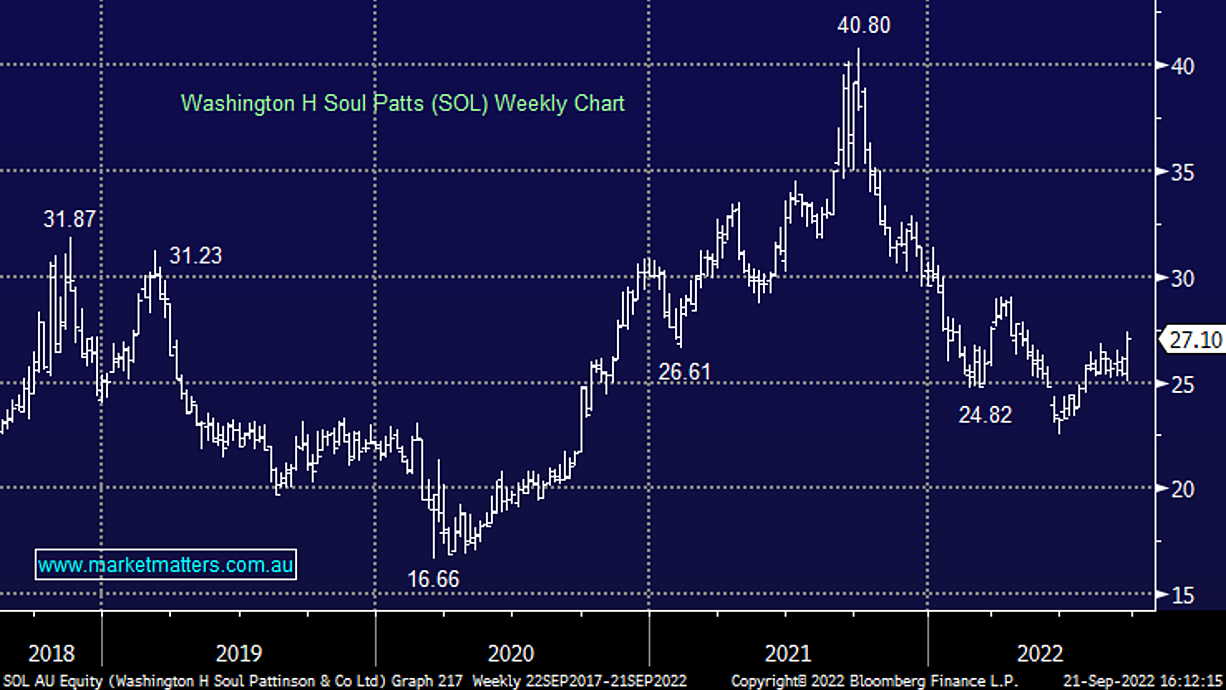 Broker Moves
Capricorn Metals Raised to Hold at Argonaut Securities
Qube Cut to Neutral at Credit Suisse; PT A$2.80
Johns Lyng Raised to Buy at CLSA; PT A$7.75
Event Hospitality Raised to Buy at Citi; PT A$17.17
Major Movers Today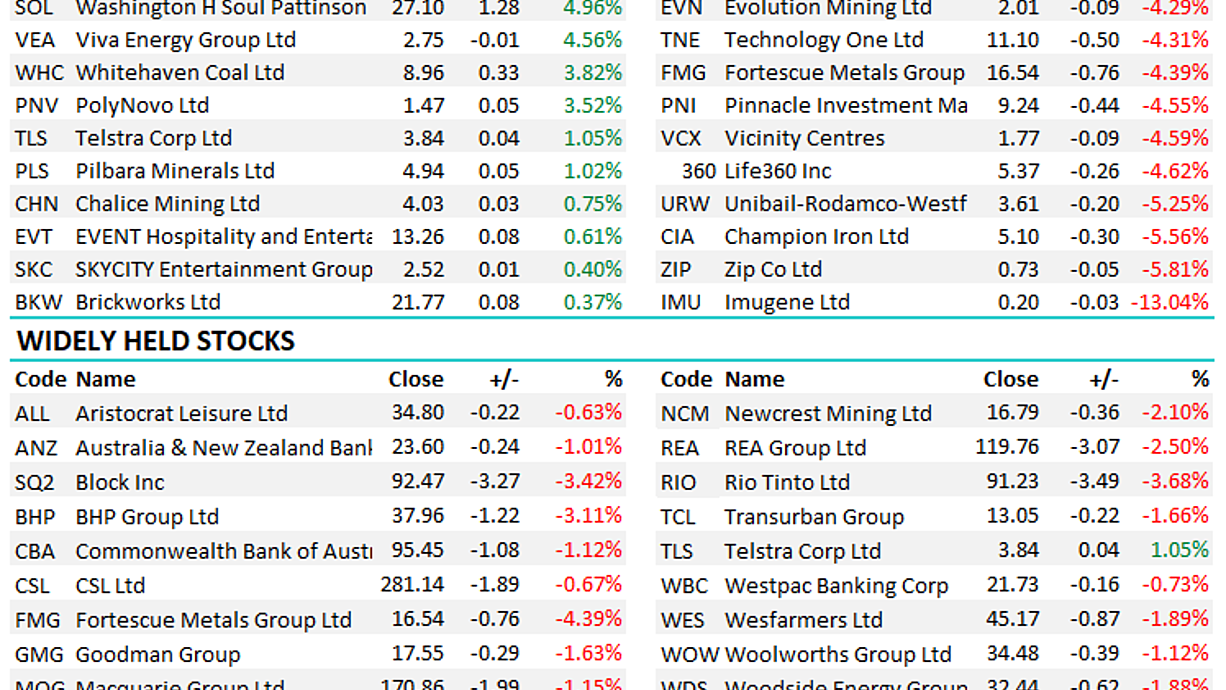 Make informed investment decisions
At Market Matters, we write a straight-talking, concise, twice daily note about our experiences, the stocks we like, the stocks we don't, the themes that you should be across and the risks as we see them. Click here for your free trial.
The Match Out will be available each day after the market close. Follow my profile to be notified when the latest report is live.